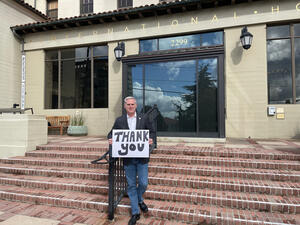 I-House will be participating in UC Berkeley's Big Give, a 24-hour online fundraising blitz on March 9-10th. All gifts, regardless of size, make a bigger impact! This support enables us to expand our programs and provide financial aid so others can be a part of the I-House experience.

Here are ways you can help:

1. Make a gift of $10 or more to I-House between 9 p.m. on March 9 and 9 p.m. on March 10 PST at ihouse.berkeley.edu/givingday

2. Share your favorite "I-House Story" on Social Media. Seize the moment with a photo or a short video and share on Instagram and Twitter with both #CalBigGive and #InternationalHouse hashtags to help I-House win contests! See all contests at: biggive.berkeley.edu/leaderboards/

3. Encourage your friends and family to donate! Share our Big Give page: ihouse.berkeley.edu/biggive
Throughout this unprecedented year, we encourage you to share an I-House Story with us  - whether at International House, @UCBerkeley, or beyond. We thank all who support International House via Big Give. #GoBears!
Shaun Carver, I-House Executive Director