Big Give Thanks for all your support!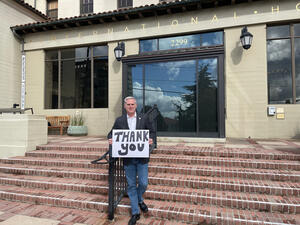 On behalf of the Board of Directors, staff, and future residents of I-House, thank you for supporting I-House's Fall reopening through #CalBigGive.
Last year, for the first time in I-House history, I-House had to close its doors to the community due to the pandemic. Since then, we've made many structural and procedural changes to ensure the health and safety of our residents, staff, and guests and we're excited to be able to welcome the community back to I-House in the Fall. 
We know that the generous support from our alumni, donors, and friends is what will enable us to open our doors. Big Give marked the kickoff to our celebrations and activities for our reopening. 
Throughout this unprecedented year, we encourage you to share with us who opened doors for you - whether at International House, @UCBerkeley, or beyond. We thank all who supported our reopening via Big Give. #GoBears!
Shaun Carver, I-House Executive Director