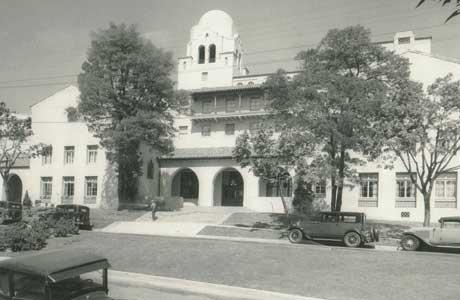 International House Berkeley was part of a larger "International House movement," founded by Harry Edmonds who, as a young man working for the New York YMCA in 1909, had a chance meeting with a Chinese student. Edmond's casual "good morning" on the steps of the Columbia University library provoked the response: "I've been in New York three weeks, and you are the first person who has spoken to me." Inspired by this experience, Edmonds decided to investigate the situation of foreign students in New York City. With the funding and support of John D. Rockefeller Jr., the first International House opened in New York in 1924.
Due to the success of International House New York, Edmonds and Rockefeller decided to extend the idea. Berkeley, California, was selected because the Bay Area was the American point of entry from Asia and claimed the largest number of foreign students on the West Coast.
When the idea of International House was first proposed to the Berkeley community in the 1920s, there was considerable resistance. There was resistance to men and women living under one roof; there was hostility to foreigners; and the notion that people of color would live with "whites" in an integrated setting was, to many, simply incredible.

When Harry Edmonds came to Berkeley to establish a site, he chose Piedmont Avenue, in part, because it was the home of fraternities and sororities, which then excluded foreigners and people of color. By proposing this site, Edmonds sought to strike bigotry and exclusiveness "right hard in the nose."

International House Berkeley officially opened on August 18, 1930. It was the largest student housing complex in the Bay Area and the first coeducational residence west of New York.

The world has changed radically since 1930, yet International House is more relevant than ever. In our increasingly global society, the ability to understand other cultures—and one's own culture through others' perspectives—is crucial to meeting the challenges of an ever-shrinking, interdependent world.