Bringing elegance to every event, I-House Catering Services offers full-service event planning and management for a wide range of functions, whether you are hosting a small meeting with just coffee and an array of muffins and pastries, or a large, served dinner for faculty and staff.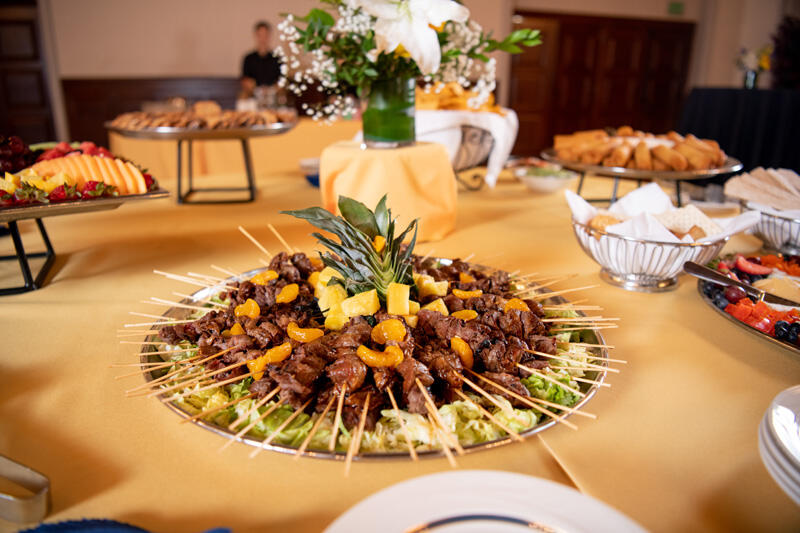 Catering Arrangements
Once your event-space reservations are underway, please call a member of our catering team to discuss your special needs at (510) 642-6794. You may also fill out the Catering Services Request form.
Linens + China
Linens, china, glassware, and silverware are provided for your event at a nominal fee. Please let us know at the time of your booking if you desire colored tablecloths or napkins.
Specialty Items
Specialty items such as flowers, centerpieces, or candles may be ordered through the Catering Office. We make every effort to accommodate your wishes.
Table Service
We are fully equipped to provide table service for groups of up to 300. Our award-winning kitchen staff is renowned for preparing superb international dinners and serving them in elegant style.
Freedom of Choice
When you look over our selections, you will notice our menus show a starting price, depending on what is ordered. Please keep in mind that most menus we arrange with clients are customized to suit individual tastes. You are welcome to "mix and match" menu items and to add your personal favorites to any meal.
Eat Well at Berkeley
International House Catering is an approved Eat Well Berkeley Caterer, through University Health Services. We are committed to offering whole, fresh ingredients, healthy proteins, and plant-based options. Learn more at the Eat Well Berkeley Catering.

Our clients keep coming back for the personal connection and the attention to detail we give every special event. We work creatively within your budget, paying particular consideration to quality and value in all our services. As a full-service caterer, we offer staffing, desserts, flowers and décor, and furniture rental. The delicious flavors found in our menu can easily be modified to accommodate all special dietary needs.
Let us help you plan an unforgettable event! When you're ready to begin planning your next event, please contact a member of our event sales team at (510) 642-6794 or ihcatering@berkeley.edu. The more we know about your event, the better we can serve you. So please have the following information available: event date, time, number of expected attendees, and what kinds of services are required.
For all our functions, from casual to formal, I-House Catering wants you and your guests to have an unforgettable event. With personalized service and superb attention to detail, we want to create a memorable experience just for you.