Fostering a Sense of Community, in the House and Online
A website content refresh aligns with our commitment to improving the resident experience.
At International House Berkeley, we are proud to showcase an improved array of offerings tailored just for our residents to make the most out of their time here. Our redesigned website more effectively portrays these offerings under a new umbrella, "Resident Life" comprised of the departments that make a big impact on residents: Admissions, Resident Support Services, and the Program Office.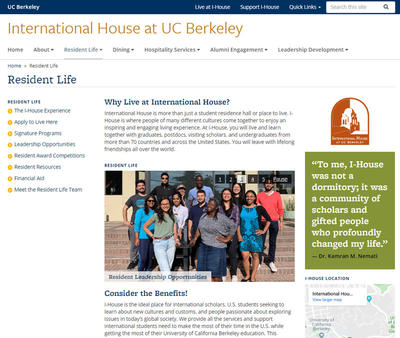 Residents may find information about the "I-House Experience" and gain access to a range of services, including signature programs, leadership opportunities, resident award competitions, financial aid, applying for a room, and direct ways to contact the Resident Life Team. Check out the new podcast series,From All Corners, featuring stories from I-House residents.
We invite you to see what's new throughout the website. We will continue to share updates as we roll out new enhancements, and we welcome yourfeedback. Thanks for stopping by!
---
Join Us!
Global Homecoming is Sunday, October 20th, from 9:30 a.m. to 3:00 p.m.
Register by Thursday, October 17th and save $5 with early bird pricing!
$15 community members, $10 I-House alumni, and free admission for current residents.
Calling All Alumni: Be a Global Table Talk Ambassador!
We are seeking alumni from all decades to participate in the Global Table Talk Lunch, a wonderful way to meet other I-House alumni and current residents while hearing about their experiences. Table Talk ambassadors are encouraged to invite their I-House friends to attend and be involved as well.
Global Table Talk ambassadors are needed on Sunday, October 20th from 11:00 a.m. to 1:30 p.m. Conversation starter cards will be provided, and all participants will receive lunch and special desserts for their participation.
For a full schedule of activities or more information, please visit:ihouse.berkeley.edu/globalhomecoming
---
Cal Discoveries Tours
Cal Discoveries Tour: Inland Sea of Japan
May 19 – 30, 2020
I-House alumni and friends are welcome to join International House Executive Director Emeritus Joe Lurie on this intriguing Cal Discoveries exploration of the ancient traditions of Japan.
Book by Oct. 18 and save $1,000 per person.Learn more and register
Cal Discoveries Tour: Switzerland, Germany, Austria, and the Passion Play
July 20 – 30, 2020
Joi
n I-House Executive Director Hans Giesecke on a tour of the treasures of the northern Alps in Germany, Austria, and Switzerland, where each day unfolds to reveal close-up encounters with enthralling European history, majestic mountain landscapes and medieval towns.
Book by Nov. 5 and save $250 per person.Learn more and register
---
Staff Highlight
We are pleased to welcome Cedric Martin, Director of Hospitality Services for International House.
Cedric brings over 16 years of hospitality services experience in leadership roles within complex operations, supervising diverse teams and managing challenging programs and assignments. Over the last nine years, he has been leading large teams within the UC Riverside Dining Department. He is most passionate about building strong relationships with his team members, partner departments and constituent organizations. He is focused on getting results and brings a positive attitude with him to work every day.
Cedric writes, "My first two months here at I-House have been really amazing. The staff and residents here have been great. I'm looking forward to continuing I-House's mission of building lifelong friendships and fostering intercultural respect."
Contact Cedric if you have any questions about I-House Dining or Catering Services.
cedricmartin@berkeley.edu
(510) 642-8057
---
Stay Connected
It is our goal to celebrate the lives and achievements of our alumni and the contributions they have made and continue to make around the world. Please help us to keep you informed of upcoming regional events, update our records to help you reconnect with old friends, locate lost alumni, and share recent news with you. If you have moved, changed email or mailing addresses, or want to give us an exciting update about developments in your own life, please let us know by filling out this brief contact update form.
By sharing this with your I-House friends, you are helping to extend our reach and to keep the I-House connection alive! As always, we welcome your news at ihalumni@berkeley.edu. See more ways for alumni to stay connected.
---
We look forward to welcoming you back to I-House. If you're in the area, please let us know!
Best regards from Berkeley,
I-House Philanthropy, Alumni Relations & Communications Team
International House at UC Berkeley
(510) 642-4128 | ihalumni@berkeley.edu