Experience the world at International House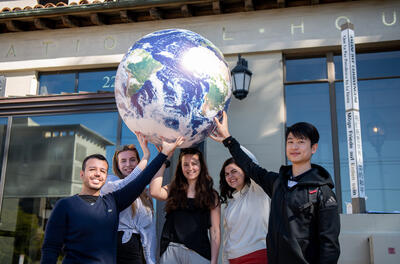 If you are looking at campus housing options that are more than just a dorm, International House offers a once-in-a-lifetime intercultural living opportunity. Located in the southeast foothills of the Berkeley campus, I-House is a historic and architecturally striking campus housing facility and intercultural program center for U.S. and international students. 
I-House provides you with the best mix of conveniences, entertainment, and social activities of any student residence!
In addition,
You'll be part of a global community that supports your academic pursuits, career development, and mentorship networking;

The historic building has fantastic bay views and convenient access to campus, the Law School, Haas, Cal Memorial Stadium, and the Berkeley hills;

A full meal plan is included, and I-House is known for having the best food on campus!
I-House offers fully furnished double and single room accommodations. Floors are co-ed, with the exception of the 8th floor Women's Hall. The I-House room and board fee for the spring includes 19 meals per week in the beautiful I-House Dining Commons. I-House provides a variety of spaces for work and recreation, including a library, resident lounges, game rooms, and a computer center. Conference rooms and a small kitchen are available for residents' special events. A broad program of activities and outings is also offered throughout the year.
The International House Café (now edmonds café) is open to the public for meeting with friends over a hot or cold coffee drink, pastry, bagel, sandwich, or a glass of beer or wine. Enjoy the spacious and light-filled space and the panoramic view of the Bay Area from the window seats.
Still have questions about living at I-House? Please see our Am I right for I-House? Is I-House right for me? page and take the questionaire.