A double rainbow appeared over International House this week. A sign of hope for our entire community.
Photo by Rigel Robinson.
The I-House Connection -  March 2020
Through these uncertain times, we want to wish you and your family health and wellness. We would also like to share some insights from the Robertson Center for Intercultural Leadership (CIL) for personal reflection during this historic crisis. 

Over the past two weeks we, the CIL team (Miranda Loos, Jason Patent, and Grace Michel) have been learning how to stay connected and continue to collaborate as a remote team. We wanted to take a moment to pause and share about what we have been thinking, feeling and learning in this time, and invite you into our journey. The following is a letter we all wrote together:

Nobody has been left untouched by the COVID-19 pandemic. In addition to the harm being wrought by the disease itself, and the "downstream" impacts of the disease, all of us, every moment, are managing an elevated level of stress, anxiety, and fear. Being a human right now is harder than it usually is. 

You might be finding it challenging to focus and generally manage your emotional responses throughout this time, especially as new developments arise and the future remains uncertain. We at CIL are feeling this along with you. In our line of work we are constantly thinking about how our brains and bodies react to ambiguity and unfamiliarity, especially in terms of cultural differences.

Continue reading
---
International House Times Spring 2020
The latest issue of our I-House Times newsletter celebrates nine decades of cultivating respect and understanding for a more just and peaceful world. We hope you enjoy reading it.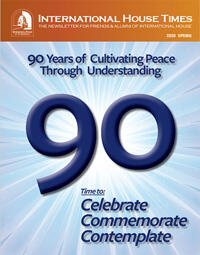 In This Issue:
Executive Director Hans Giesecke's Message: A Fond Farewell
UC Berkeley Launches Light the Way: The Campaign for Berkeley
90 Years of Peace Through Understanding
The Resident Experience: I-House Podcast: From All Corners
Building Trust Across Cultural Differences
90 Years of Notable Women at International House
Back to Berkeley, Global Gatherings, Alumni News & Notes
Gifts in Memory and Honor
And much more!
---
Big Give: A BIG Success!
Thanks to the generosity of our I-House community, we exceeded our goal of 180 gifts and received 204 during Big Give on March 12th! We are grateful for the outpouring of support that enabled us to unlock leveraging gifts from our Big Match donors. We also won additional funds in the campus "Raising the Bar" and "Big Countdown" contests. See the final results in the Leaderboards and our list of donors on our Big Give page. It is clear that the connections within our global community remain strong.
We could not have been able to accomplish this without the help of our Resident Council members and the student volunteers they mobilized. Because of their creativity and enthusiasm, we exceeded our target of 45 gifts from I-House residents (this also a record)!  Many residents wrote warm messages on their cards describing their reason for giving: 
"I give to I-House because every day here is a blessing of comfort & generosity & a true home away from home"—Aparna 
"I give because I-House gave me amazing friends!!!"—Ryoko 
"I give because I-House makes my life amazing"—Mikey
Take a look at more gratitude statements in the latest I-House blog post, Big Thanks for Big Give!

---
Welcome to the United Nations of Berkeley

We are pleased to be featured in the latest issue of California magazine in an article by freelance journalist Julia Apffel.
International House, Cal's Pillar of Diversity, Celebrates 90 Years
FOR INTERNATIONAL HOUSE ALUMNA BERNICE TAJIMA, the days after February 19, 1942, were a race against the clock. President Roosevelt had just signed an executive order forcibly relocating people of Japanese descent from their West Coast homes to internment camps across the country. In this climate of extreme suspicion, UC Berkeley's I-House protected its residents. With the help of I-House staff, Tajima transferred to Chicago's I-House just in time and escaped internment. "I know that this would not have been possible if I had not lived at I-House Berkeley in the caring community of friends," Tajima later wrote. "I can't fully express in words my gratitude."

Continue reading
---
We thank you for staying connected to International House Berkeley.

Sincerely,

I-House Alumni Relations, Communications, and Philanthropy Team
(510) 642-4128
ihalumni@berkeley.edu