Dear Alumni and Friends,
In this issue of the I-House Connection, Nayeli Vivanco shares some highlights of her exciting first month as the new VP of the Robertson Center for Intercultural Leadership and Programs.  As Nayeli rebuilds the team in the Sarin Program Office, it is wonderful to have signature I-House traditions once again enriching the experience of our residents. 
Roxanne Pifer, Director of Admissions and Housing Operations, shares that our new cohort of Resident Assistants is hard at work as well. Please learn more about their important role and meet them below. 
Also in this issue, I-House bids farewell and congratulations to Joy Iwasa, and thanks her for her many years of dedicated service.  We expect to still enjoy a lot of Joy's company.  Bill Howley, Director of Philanthropy, advised Joy that it's like the song "Hotel California," You can check out any time you like, but you can never leave!
Last month, I invited you to share a message for our incoming residents, and I'd like to share some of those thoughts with you. If you haven't done so already, I encourage you to join and participate by sharing additional messages in our online global community at ihberkeleyconnect.org
Sincerely,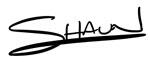 Shaun R. Carver
Executive Director
International House at UC Berkeley