Dear I-House Community -
It is a great pleasure to announce that effective August 1, 2020, Shaun R. Carver has accepted the position of Executive Director of International House at the University of California, Berkeley.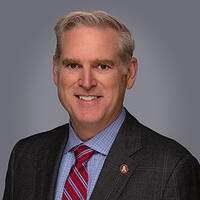 Shaun brings a wealth of experience to this position, with over twenty years of leadership in international education and a lifetime of living and working in cross-cultural environments. He served as Assistant Dean for Graduate Programs in the Rady School of Management, UC San Diego (2017-2020), and as Executive Director of the Hult International Business School (Boston, New York, San Francisco, Shanghai; 2013-2017), where he oversaw 750 students representing 82 countries. Before that, he served in leadership positions in institutions of international higher education in China (2002-2013) at the University of International Business and Economics in Beijing, Tsinghua University, and the Sino-British College of the University of Shanghai Science and Technology (USST).
Shaun received his B.A. (High Technology Management), and an M.B.A. from California State University, San Marcos.  He is currently pursuing a doctorate in education (Ed.D.) at the University of Southern California.
Shaun's father is American and his mother British, thereby allowing Shaun to hold citizenship in both the United States and the United Kingdom. As a child, the family moved around often, within the U.S., and lived for two years in Ireland. Shaun traveled widely during his years in Asia, through China, Taiwan, Hong Kong, Mongolia, Japan, and many other countries throughout the continent. He feels at home in cross-cultural situations.
He met his wife, Bei Bei Zheng, in Shanghai.  Her family, originally from the seaport city of Wenzhou, is also international, with some members currently living in Italy. Their two children, LiAnne (age 8) and James Maxwell [Max)] (age 6), are comfortable in multicultural environments, spending significant time with family in China, Italy, and the U.S.
In closing, we would again like to extend our gratitude to departing Executive Director Hans C. Giesecke and his entire team at International House for their exceptional leadership during these exceedingly difficult times as we cope with the COVID-19 pandemic.
We welcome Shaun to the International House community and look forward to his leadership as we move forward during these coming months and into a new year in 2021.
My deepest appreciation to all of you for your dedication to the International House mission.
Sincerely,  
Jamy O. Faulhaber
Vice Chair
International House Board of Directors