Bench Dedication: $10,000
Table Dedication: $20,000
Dedicated bricks are installed on the Von Kaschnitz Patio located just outside of Edmonds' Café in front of I-House.
Bench dedications are engraved on bronze plaques and mounted on benches, which, space permitting, may be placed outside of the Edmonds' Café, in the Heller courtyard in the center of I-House, or on the Jewell patio in the back garden.
Table dedications are engraved on plaques and mounted on a table of your choice in the David Fleishhacker Library or the Eric and Wendy Schmidt Dining Commons.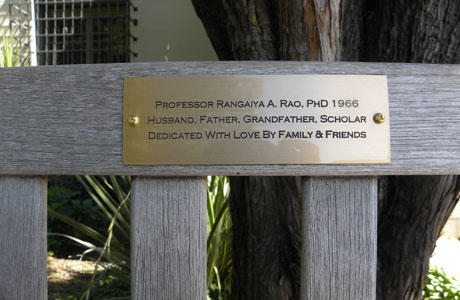 Family members of I-House alumnus Rangaiya Rao gather around the bench they dedicated in his memory