Dear I-House Alumni and Friends,
The Omicron variant is still with us, and the COVID-19 pandemic continues to challenge the I-House community as we welcome back new and returning residents for Spring term.  As Executive Director, I am proud of our staff members who continue to demonstrate their dedication and ability to pivot and to innovate to provide services safely to our residents.  As I conveyed in my New Year message last week, I also wish to express my appreciation for residents taking the necessary steps to help protect themselves and our community.  
In this issue of the I-House Connection, I'm pleased to share an invitation to three virtual events hosted by I-House New York: The Art of Japanese Cooking, followed by Why Have Hope? Sustainability Through the Lens of Politics, Business, and Civic Engagement, and The Expat Success Story: Chinese American Careers in the U.S.
I hope you'll enjoy hearing about the fun week of welcome activities for new and returning residents put together by Shanea Gideon, Resident Support Services Manager, and the Spring Resident Assistants.
I'm also delighted to provide a sneak peek at the logo for the upcoming soft opening of Edmonds Caféat I-House after months of restoration. We are delighted to honor the memory of Harry and Florence Edmonds, founders of the I-House movement, as we confer their name on one of I-House's most cherished features.  As public health and safety conditions allow, we look forward to welcoming back alumni, friends, and the broader community for an "official" Edmonds celebration!
Sincerely,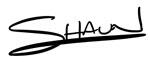 Shaun R. Carver
Executive Director
International House, UC Berkeley