Dear Alumni and Friends,
In this issue of the I-House Connection, I am delighted to announce the establishment of a new endowed scholarship, named in honor of Dr. Jayanta Roy (IH 1967-68), and initiated with a gift by his friends Ajit Sabnis (IH 1967-68 and 1970-71) and Marjie Sabnis (IH 1969-70). 
In our staff spotlight, I'm pleased to feature Cedric Martin, who has recently been promoted to the newly created position of Vice President of Hospitality Services. 
Also in this issue, I invite you to enjoy some recent contributions from resident I-House Social Media Ambassadors Aneta Felix and Oke Iroegbu. Aneta has produced a charming video interview retrospective on highlights from the Fall term just concluded, and Oke has written a first-hand reflection on his experiences during Winter break. 
If you haven't done so already, I encourage you to join and participate by sharing additional messages in our online global community at ihberkeleyconnect.org.
Sincerely,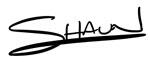 Shaun R. Carver Ed.D., MBA 
Executive Director and CEO
International House at UC Berkeley