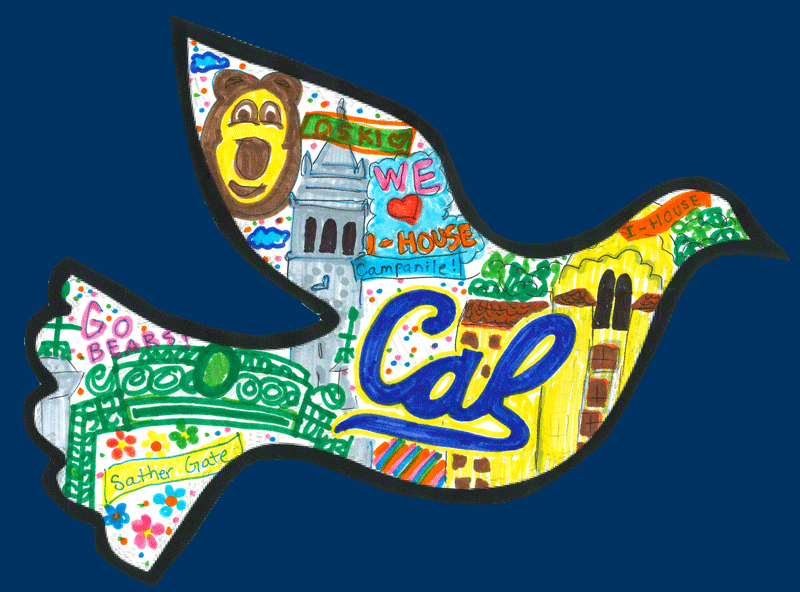 Peace Dove artwork created by I-House resident Manal Siddiqui in December 2022.
There's a special energy around I-House in recent weeks.

The Great Hall and Edmonds' Cafe have been packed with colorful team jerseys and intense, but friendly competition as residents watched the World Cup matches. Spirited chanting, clapping, and hoots and hollers are still echoing through the hallways.
In the library, a different, quiet fellowship has dominated, with students sitting side-by-side at the long tables writing papers, preparing presentations, and studying for final exams.
In the newly remodeled Sproul Kitchen and Gamble Lounge, which opened last week, residents have been cooking and sharing traditional foods of their home countries with new friends. The excitement has been palpable. 
And all around the House, group hugs and tearful goodbyes are taking place as some of our residents, finished with their studies at UC Berkeley, depart I-House, head back home, and become a part of the I-House global community. 
For these and many other reasons, I ask you to make a gift to I-House.(link is external)
These cultural exchanges, new international friendships, and this remarkable I-House energy are all part of the "day-to-day practice of international fellowship" at the heart of International House as imagined by I-House benefactor John D. Rockefeller, Jr. in 1930. They are also what continue to make living in I-House such an extraordinary experience today.
If you have already donated to I-House this year, thank you! You, along with other residents, alumni, and friends, make I-House possible. 
If you've yet to support I-House, please make a gift today(link is external). With your help, we will further the I-House experience and our mission to foster intercultural respect and understanding, lifelong friendships, and leadership skills for a more just and peaceful world.
Sincerely,  
Nayeli Vivanco 
Vice President, Robertson Center for Intercultural Leadership and Programs