We understand that appropriate technological resources are an important part of today's education.  In order to support the educational goals of our residents we provide a variety of equipment and services.
The Resident Computing Center (RCC)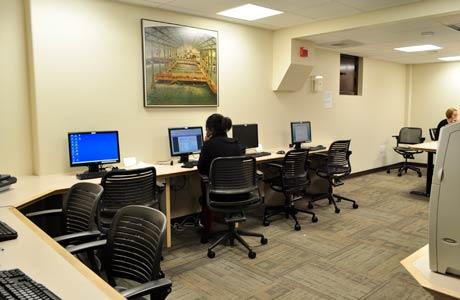 The Resident Computing Center (RCC) is available exclusively to current I-House residents 24-hours a day, seven days a week. The RCC is located just outside of the elevators on the third floor and offers access to:
Computers (Windows 10 Machines) with Microsoft Office and other applications
Printing (Color printers, scanners, remote printing, single and double-sided printing)
I-House Wireless Access
All resident rooms and most public spaces are equipped with wireless connections that allow you to connect directly to our high-speed network.
International House broadcasts three wireless network IDs:
IHouse-Secure offers encrypted WiFi. This network is available only to I-House residents and only after completing the onboarding process.
IH-Onboard is a limited network that is only used to add devices to the encrypted network.
International House provides open, unencrypted Internet access to visitors and residents.
The IHouse-Secure network uses a secure authentication mechanism known as WPA2-Enterprise and 802.1X. To protect your privacy and cybersecurity, use this network anytime you are sending or receiving sensitive information like your user name, password, and personal data.
Note: In the process of setting up your secure connection, you will need to know your IHouse (StarRez) ID. (This ID is from the resident application portal. It is also written on your check-in envelope.)
Get connected to the secure WiFi:
Connect your device to the WiFi network called International House.
Login with your IHouse ID and your last name as they appear in StarRez.
Follow the instructions to download and install a certificate package for your device.
Connect your device to the WiFi network called IHouse-Secure.
If the download is not offered or not successful, return to step 2 and try a different browser.
For best security and performance, make sure that "connect automatically" is only enabled for IHouse-Secure.
Need more help?
If you are running Mac OS you may need to complete the following steps:
a)      If your web browser reports the certificate package file as possibly malicious, right-click the file and select "Keep"
b)      Run the file you just downloaded
c)      Open your Mac settings and choose "Profiles" in the bottom right corner
d)      On the left of the Profiles window, choose the profile you just downloaded for I-House residents
e)      Choose: Install
Devices without a browser, such as gaming consoles, may not support WPA-2 Enterprise. These devices will not have access to the encrypted network but should be able to connect using the open International House network.
If you encounter difficulties in setting up your secure connection please contact the Resident Computing Center at rcc@ihouseberkeley.org or (510) 643-1724.
Printing
Printing from your room instructions:
printingwithpapercut.pdf

Printing Prices:
Letter /  Legal
Black and White $0.08  /   $0.11
Black and White Double Sided $0.14  /  $0.20
Color $0.60  /  $0.75
Color Double Sided $1.20  /  $1.30
Need more specialized help?
We are happy to give you guidance. Please email us at rcc@ihouseberkeley.org or give us a call at (510) 643-1724.