Social Media Ambassadors (SMAs) assist the I-House Communications team with social media, blogging, video production, fundraising, and special initiatives. In addition to sharing glimpses of I-House life on ihberkeleyconnect.org, Instagram, Twitter, Facebook, Spotify, and TikTok accounts, our SMAs are adding fresh new content on our YouTube channel and blog!
Fall 2022 Social Media Ambassadors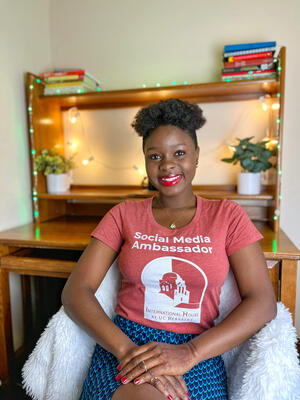 Aneta Felix
Aneta Felix is a Nigerian journalist with almost a decade long experience in newsrooms, including at the BBC. Her work has been awarded and recognized in Germany, the US, the UK, Nigeria, Ghana, and South Africa.
She has also worked on the radio, TV, online, and print platforms as a presenter, producer, creative writer, editor, and media consultant.
Aneta is a documentary filmmaking major at the graduate school of journalism, University of California, Berkeley.
She is a 2022 recipient of the Mastercard Foundation Scholarship, an awardee of the British Council, and the Girls in Tech category winner at 2020 Connect Her Film Festival for her film, Women in Tech.
Aneta is also a new vlogger, sharing her international experience with the US community. 
Aneta writes, "I'm happy we're building friendships and making fun memories so far, and I'm thrilled to have the opportunity to document them through videos, pictures and blog posts, as a Social Media Ambassador at I-House."
You can connect with Aneta on these platforms:
Youtube | Instagram | Facebook | Linkedin | I-House Berkeley Connect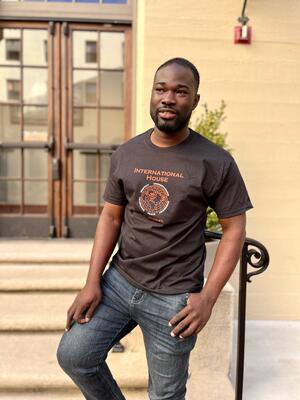 Eric Assan
Eric was born in Ghana and is currently a Master of Education student at the Berkeley School of Education with a focus on Policy, Politics, and Leadership. He is one of the 20 MasterCard Foundation Scholars living at International House this year. 
He spent three years living in China, where I traveled to many cities: Harbin, Hangzhou, Shanghai, Guangzhou, Yiwu, Shandong, and many others, before and after the pandemic. He is very passionate about educational equity and is always looking for ways society and the world at large can help improve access to education for people in low-income, developing countries, and marginalized and underserved communities. During his leisure time, he loves creating videos, listening to music, and taking pictures. Eric will be helping the Communications team with photography, video production, and fresh content for our websites, ihberkeleyconnect.org and other social media outlets.
Eric writes, "I'm very excited about the opportunity to experience the wonderful moments with you through my lenses while at I-House and the beautiful Berkeley community." 
You can connect with Eric on these platforms:
Youtube | Instagram | I-House Berkeley Connect