Social Media Ambassadors (SMAs) assist the I-House Communications team with social media, blogging, video production, fundraising, and special initiatives. 

Meet Our New Social Media Ambassadors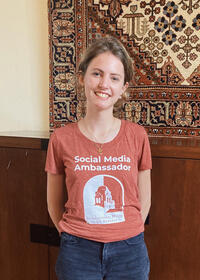 Louise Riché
Hello everyone! My name is Louise Riché and I am very excited to be one of the Social Media Ambassadors for I-House for this academic year! Along with Azza Chairannisa, I will be sharing life at International House and its incredible community on social media.
A little bit about me: I am a French exchange student staying in Berkeley for a year. However, even though I grew up in France, I have spent the last two years studying in London! People often ask me what my major is, and I always reply that it is a complicated question. That is because I study an interdisciplinary degree of Liberal Arts and Sciences, meaning that I study a little bit of everything. For example, at Berkeley, my classes range from Chinese and computer science to theatre and social entrepreneurship! In my free time, I love watching movies (my favorite being La La Land) and traveling.
Mumtaza Chairannisa
Hello! My name is Mumtaza Chairannisa, but I go by Azza, and I have the great honour of being one of I-House's new Social Media Ambassadors, and the greater pleasure of working with I-House's communications team! My role as an SMA includes using various social media platforms to connect and share the wonderful cultures we have within I-House. Another way I intend to promote the diverse cultures of our residents is through an international cookbook where I will ask our lovely residents to send in recipes of the dishes that remind them of home! 
A little bit about me: I am Indonesian, but I grew up in the UK. Currently, I am a Junior majoring in History. I spent my previous two years in France as part of the Sciences Po Paris and UC Berkeley Dual Degree program, where I majored in Economy and Society. I can speak Bahasa Indonesian, English, and to a much lesser extent, French.
###
In addition to breathing new life into our Instagram and Facebook pages, our Social Media Ambassadors are curating Spotify playlists and a new TikTok account for I-House!  
Volunteer Opportunity:
Now more than ever, it is important to keep the I-House experience alive in the hearts and minds of alumni around the world. In addition to the student worker Social Media Ambassador roles, there are volunteer opportunities available for residents and alumni to serve as Global Community Ambassadors on our alumni engagement platform, I-House Berkeley Connect.
Watch videos produced by previous SMAs:
Support I-House for Big Give
Winter Holiday Traditions from I-House Residents
"I-House Gratitude" Video
"The I-House Experience" Video