We understand that appropriate technological resources are an important part of today's education.  In order to support the educational goals of our residents we provide a variety of equipment and services.
The Resident Computing Center (RCC)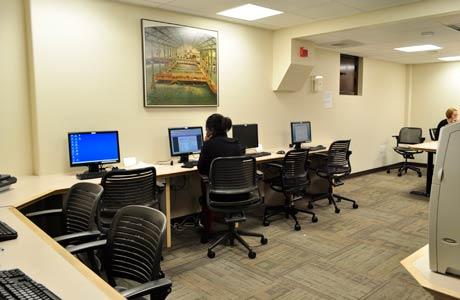 The Resident Computing Center (RCC) is available exclusively to current I-House residents 24-hours a day, seven days a week. The RCC is located just outside of the elevators on the third floor and offers access to:
Computers (Windows 10 Machines) with Microsoft Office and other applications
Printing (Color printers, scanners, remote printing, single and double-sided printing)
I-House Wireless Access
All resident rooms are equipped with wireless connections that allow you to connect directly to our high speed network.
International House broadcasts three wireless networks:
1. "International House" is an open unencrypted network available to visitors and residents
2.  "IH-Secure" is the encrypted network. This network is available only to I-House residents and only after completing the onboarding process.
3. "IH-Onboard" is the wireless network to join in order to add your devices to the encrypted network.
The IH-Secure network uses a secure authentication mechanism known as WPA2-Enterprise and 802.1X. This security mechanism protects your user name, password, and data with network encryption.
Your network connection requires specific settings in order to use the IH-Secure network. Connecting to IH-Onboard will launch a tool called Xpress Connect by Cloudpath to automatically configure your network settings. After your device's initial configuration and connection, subsequent connections to the IH-Secure network are automatically authenticated and connected.
Note: In the process of setting up your secure connection, you will need to know your IHouse ID.
Devices without a browser, such as gaming consoles, will not have access to the encrypted network at this time and should continue to connect using the open International House network.
If you encounter difficulties in setting up your secure connection please contact Information Systems at ih_rcc@berkeley.edu or (510) 643-1724.
Printing
I-House has printers in the Resident Computing Center (RCC) on the 3rd floor that you can print to by following the steps below. First, make sure to add value to your
I-House Debit Account
.  On the single-sided printer, Black & White prints cost 8 cents for one page. On the double-sided printer, it's 11 cents for a single-sided page and 15 cents for a double-sided page. Color prints cost 60 cents per page, single-sided only.
Residents can print from their personal computer anywhere in I-House to the printers in the RCC by following the instructions below.
In-Room Printing
1. Go to
http://204.102.224.30:7290/
At the login screen, use any username and password you wish. (Since this is an anonymous system, i.e. one with no user authentication, the filename, date/time, number of pages, and print status of your print job may be viewable by others using this system.)
2. Browse to the document you wish to print, click Next.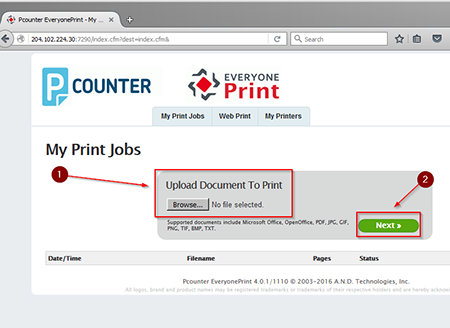 3. To send the job to the printer, press the button corresponding to the printer you wish to use.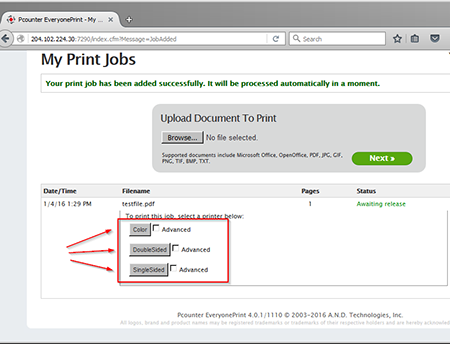 4. Finally, go to the print kiosk in the RCC, which is on the 3rd floor.  You will see the print job waiting in the print queue.
Need more specialized help?
We are happy to give you guidance. Please email us at Ih_rcc@berkeley.edu or give us a call at (510) 643-1724.