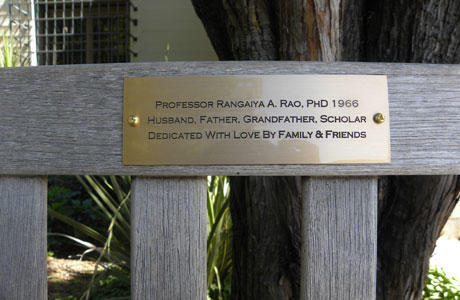 Gifts of $5,000 - $10,000 are recognized with an engraved bronze plaque mounted on a bench outside of the I-House Café. Gifts of $10,000 provide a plaque on a table of your choice in the I-House Library. These generous gifts will support scholarships which enable students with financial need to afford the opportunity to live at International House.
To reserve a bench or library table, contact our office at ihalumni@berkeley.edu and use the Bench and Table Dedication form.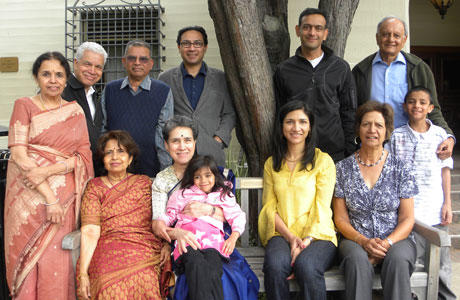 Family members of I-House alumnus Rangaiya Rao gather around the bench they dedicated in his memory.
Bench & Library Table Plaque Inscriptions:
In Memory Of 1942 Alumni
Charan and Harriet Godfrey Singh
A Couple Whose Love Blossomed At I-House
Dedicated in memory of
George Foster (IH 1935-37)
The Father of Medical Anthropology
who often studied in this library